PADU TO RAISE FUNDS TO MEET DEMAND OF HOSPITAL EQUIPMENT NATIONWIDE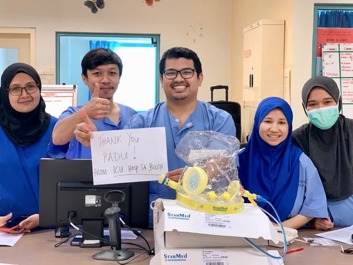 USM KUBANG KERIAN, KELANTAN, 12 April 2020 – The Universiti Sains Malaysia Doctor Alumni Association (PADU) has launched the COVID-19 Respiratory Aid and Support Equipment Purchase Fund Project on the 23rd March 2020.
Its President, Professor Dato' Dr. Jafri Malin Abdullah said, PADU initiated the project with the aim of helping hospitals nationwide that are currently facing a severe shortage of equipment in particular respiratory support equipment due to the COVID-19 outbreak.
He said among the respiratory aid equipment that is in demand included continuous positive airway pressure (CPAP), two-function positive air pressure (BiPAP), high-flow nasal cannula (HFNC) and ventilators.
"However, due to limited finance, we only supplied equipment that can be purchased with the available funds," he said.
He added, the project has so far raised RM70,000 which included RM37,500 contributed by Bank Muamalat Malaysia Berhad through its Tabung Mawaddah for the purchase of 10 sets of CPAP helmets.
"From the money raised, PADU was able to purchase 11 sets of CPAP helmets and five BiPAP helmets, which were distributed to six hospitals, namely Sungai Buloh Hospital; Kuala Lumpur Hospital; Raja Perempuan Zainab II Hospital; Queen Elizabeth Hospital 1; Sarawak General Hospital; and Universiti Sains Malaysia Hospital (HUSM).
"In addition, PADU was also involved in a project to install plastic shields on 300 frames of 3D face shields courtesy of 3D Printing Malaysia Community for COVID-19 and distributing them to frontline health workers, laboratory staff of Raja Perempuan Zainab II Hospital, Tumpat Hospital and HUSM," he said.
PADU also assisted the university to look after the welfare of students by launching the "Food Charity for USM Students - PADU (COVID-19)'' project to donate food to USM students who are staying back at the Kubang Kerian Health Campus during the Movement Control Order (MCO).
Jafri said, PADU is still in need of RM290,000 to meet the demand of providing respiratory support equipment to hospitals nationwide with the help of its representatives serving in those hospitals.
"Hence, your contribution is very much needed to purchase these equipment immediately to cope with the COVID-19 outbreak," he added.
Jafri concluded by thanking all the generous individuals, corporate bodies and donors who have contributed to the Fund since it was launched.
Anyone who wish to donate to PADU could do so via Bank Islam Malaysia Berhad – Account number 03018010143411, under the name of PERSATUAN ALUMNI DOKTOR USM (PADU). Reference: CPAP COVID-19.
Translation: Tan Ewe Hoe/From press statement by: Prof. Dato' Dr. Jafri Malin Abdullah (President of PADU) & Dr. Wan Faiziah Wan Abdul Rahman (Secretary of PADU)