WHO'S WHO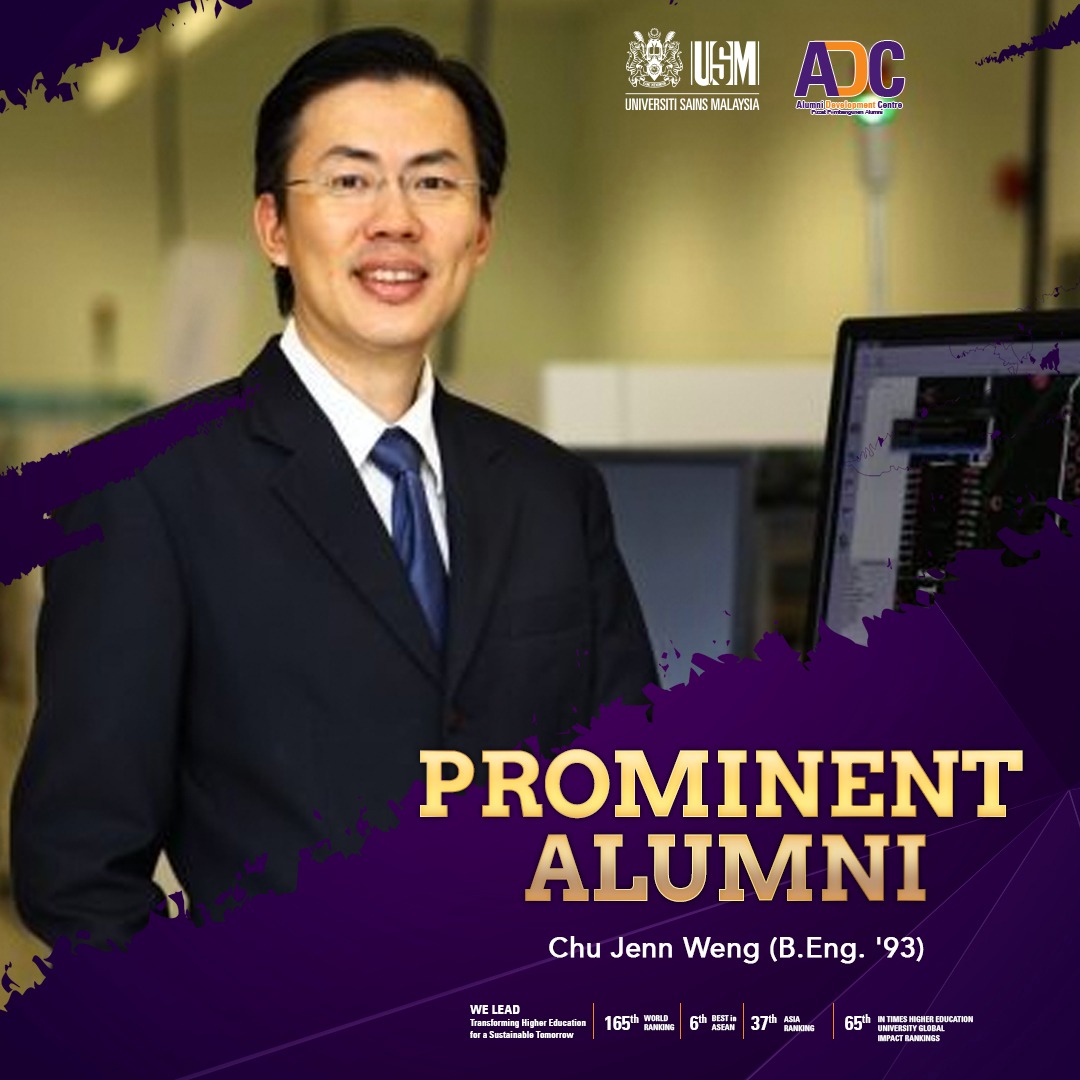 PROMINENT ALUMNI
Chu Jenn Weng (Managing Director / President / CEO VTSB)
USM Alumni Mr. Chu Jenn Weng (B.Eng. '93) has more than has more than 25 years of experience in machine vision industry. He worked as an instrumentation engineer for more than five years in Hewlett Packard Malaysia (HPM), now known as Agilent Technologies Sdn Bhd, after graduated from USM. Majoring in Electrical and Electronics Engineering, he started his first project in machine vision back in 1992 while he was still studying in USM.
During his 5 1⁄2 year career in HPM, he was directly involved in the R&D of machine vision systems, system set-up and support, as well as setting objectives and development plan for the entire team. In 1998, Chu completed his part-time post-graduation study in USM focusing on image processing. While learning the fundamental and required techniques in this field, he traveled to countries like Singapore and United States of America (USA) to study and evaluate the need of those technologies and its potential for growth. He left HPM in 1998 to start-up his own business with his co-founder, Siaw Kok Tong in machine vision.
Thereafter, the partnership was then converted into a private limited company in March 2000 and was officially named ViTrox Technologies Sdn Bhd (VTSB). ViTrox is established with a start-up fund of RM20,000 together with co-founder Mr. Siaw Kok Tong and Mr. Yeoh Shih Hoong. Their vision is to build a global technology company from Malaysia by Malaysians. ViTrox positions itself as an advanced, innovative and cost effective vision inspection solution provider to all the key global players in the semiconductor back-end assembly and test as well as the electronics assembly industries.
During the start-up phase of VTSB, Chu was involved in every aspect of the business, starting from sales and marketing, R&D of vision system, part purchasing, finance as well as service and support. As the Managing Director / President / CEO of ViTrox Group, he oversees the entire operation of the business including company objectives, goals, and directions. The company has expanded to more than 24 countries such as USA, Taiwan, India, Vietnam, South Korea and the United Kingdom.
Chu received the certificate of merit from the Outstanding Young Malaysian (TOYM) Award under the Business, Economic and Entrepreneurial Accomplishment category in 2005. He was awarded the 2011 Ernst & Young Malaysian Technology Entrepreneur of the Year and also received the Outstanding Entrepreneur Award 2011 from the Asia Pacific Entrepreneur Award (APEA), Sin Chew Business Excellence Awards 2018, and recently listed in 2020 Forbes Malaysia Rich List. The Malaysia born, bred and educated has made his RM1.17 billion wealth himself (instead of inheriting it).
Text: Sharifah Darweena Syed Ahmad Amir Feisal / Sources: ViTrox Annual Report and Semicon Europa